Copyright Barry Taylor. All photographs appearing on this site are the property of Barry Taylor. They are protected by the US copyright laws and are not to be reproduced in any way without the permission of Barry Taylor or Barry Taylor Photography.
Barry Taylor Photography is based in the Kansas City area; however Barry travels to a wide variety of locations. He is available for assignments anywhere in the United States.
After studying photography at Central Missouri State University, Barry worked as Sports Editor for two weekly newspapers (The Star Herald and The Journal) located in Belton, Missouri, and two wire services (Ai Wire and Wire Image).
Barry's pictures have been published in numerous magazines, newspapers and web sites. Publications include Athlon Sports, Sports Illustrated, Sports Illustrated for Kids, ESPN the Magazine, Street & Smiths and Country Weekly. Web sites include America Online, ESPN.com, SI.com and many others. Barry's images have been used for Donruss, Topps and Upper Deck trading cards. Newspapers include the New York Post.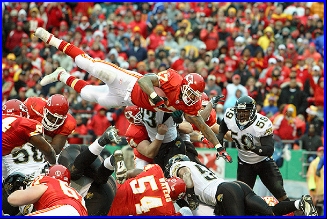 Kansas City Chiefs running back Larry Johnson dives over the Jacksonville Jaguars for a one yard touchdown at Arrowhead Stadium in Kansas City, MO on December 31, 2006.